CBSE CURRICULUM

SENIOR SECONDARY
The academic sessions and co-curricular activities which are organized in conformity to the CBSE pattern in the senior secondary section add value to the scheduled programme. The empirical approach and the options galore available make the learning productive.

The Senior Secondary section comprises Grades XI & XII
Courses in Tirupati, Vijayawada and Nellore
| | | |
| --- | --- | --- |
| 1. | M.P.C (Mathematics, Physics, Chemistry) | 2 years |
| 2. | Bi.P.C (Biology, Physics, Chemistry) | 2 years |
Courses in Bangalore
| | | |
| --- | --- | --- |
| 1. | P.C.M.Cs (Physics, Chemistry, Mathematics, Computer Science) | 2 years |
| 2. | P.C.M.PE (Physics, Chemistry, Mathematics, Physical Education) | 2 years |
| 3. | P.C.M.B (Physics, Chemistry, Mathematics, Biology) | 2 years |
| 4. | P.C.B.PE(Physics, Chemistry, Biology, Physical Education) | 2 years |
JEE ADVANCED PROGRAM
'AMARAVATI IIT JEE ACADEMY' is the beacon light and the trusted institution for all the aspirants competing head on to get into top-rated IITs and NITs in India. We. promise to make persistent efforts in producing worthy and promising engineers and doctors for the best in India and abroad. The saga of our success is loud and clear with the meticulous program and unmatched output of best results with a swarm or successful engineers flying over seas taking the name of BVK Institutions far beyond the boundaries of our nation.
Top Programmes For MAMMOTH Success
IIT - "TOP-STARS" Program
Special Features
Teaching starts with basic IIT foundation (6th to 10th class)
Subject wise Concept-oriented teaching by Senior most faculty
Daily assignments
Periodical assessments
Special exercise on exam errors
Expert Counselling & Building up confidence
Frequent updates to parents about the performance
TOP-STAR' Target is to nail Top 100 ranks in JEE ADVANCED
Specially designed program exclusively for below 1000 Ranks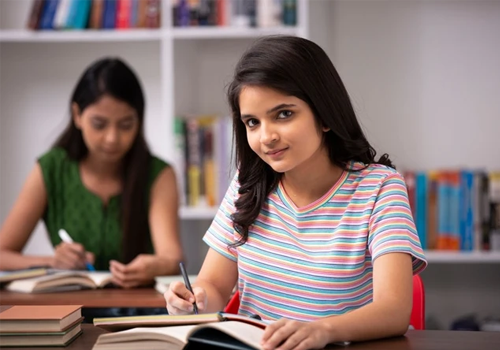 JEE MAIN PROGRAM
The college imparts education in the following integrated courses.
IIT - 'SOFT' PROGRAM ( SUCCESS ORIENTED FAST-TRACK )
Special Features
Teaching starts with basic concepts (6th to 10th class)
Concept-oriented teaching with subject wise
Regular assessments
Special exercise on exam errors
Experts Counselling & Building up confidence
Frequent updates to parents about the performance
SIFT is a program designed exclusively for seat- securing ranks JEE (Main)
NEET – Gateway to National Medical Entrance
The National Eligibility Cum Entrance Test.
" NEET " is the most popular national-level medical entrance exam. It is a.pre-medical test for aspirants who are looking to build their careers in the medical field while pursuing courses from government or private medical colleges in India.
Those who seek admission at national level medical colleges aim for a prodigious life in society. . But it is a mighty exam. It demands tremendous efforts to crack the exam. But it is not impossible either, if the aspirant is hell-bent to achieve it. So, one must work fastidiously and plan sysyematically to achieve the career dreamed of.
And the DOCTORS MEDICAL ACADEMY is the right place where the students can have their dreams come true. It is one the best colleges for NEET coaching which fortifies the students by guiding them on the correct path
NEET, being a competitive exam, students have to get through it for admission to their desired medical college. At Doctor's medical academy, we ensure the best mentorship and education to achieve their goal in one kick. With individual attention and a research-backed methodology that delivers results, Doctor's medical academy is the best option for students aiming to crack the NEET.
Our expert faculty members are highly experienced in teaching thousands of NEET aspirants with the promise of achieving impressive outcomes. Our faculty is always available to assist and guide the students. With a precise student-teacher ratio, Doctor's Medical Academy is one of the best NEET coaching institutes. Apart from these, various counseling and motivation lectures are held from time to time to keep students inspired and propel them to stay confident in their dreams.
NEET - "TOP-STARS" PROGRAM
Highlights
Every year thousands of aspirants join Doctor's medical academy, the best NEET coaching institute, to realize their dreams of becoming reputed doctors.
Individual and special attention to every student to ensure proper understanding of concepts
Regular and periodic tests to track the students' performance and guide them
Proper time management to complete NEET exam on time to avoid the eleventh-hour pressure during exam
Updated study materials for that match with the evolving examination patterns to keep our students on the pace and ahead in this race.
The interactive session between the teachers and the student helps build a good relationship that ensures the understanding of individual performance and preparation.
Pre-planned sessions after providing ample time for students to practice and clear their doubts.
Analysis and communication of academic performance to the parents and the students to provide assessment updates about their preparation.
Fully updated and high-tech infrastructure to enhance the productivity and good quality of education.
Our success lies in our students' results, and the results of Doctor's Medical Academy are the testimony to the quality education of the institute. Every year, our national toppers make us proud and give us more strength to prepare students for various other challenges of life.
KCET
Karnataka Common Entrance Test, also known as KCET, is a state-level entrance exam conducted by Karnataka Examination Authority (KEA). This entrance exam is organized to provide eligible candidates admission to different undergraduate courses in Karnataka, such as B.E./B. Tech., Pharma. B., Pharma. D., Bachelor of Veterinary Science & Animal Husbandry, Bachelor of Science in Agriculture, Forest, Sericulture, Agriculture Biotech, Horticulture and Bachelor of Home Science and many more.
Highlights for KCET
Test-wise error-elimination practice in aiming better than expectations
Current and cumulative syllabus coverage approach
Conducting additional tests, along with GRAND TESTS
Frequently Asked Questions